THE FREEZE WILL STRIKE THIS DECEMBER
21 Sep 2018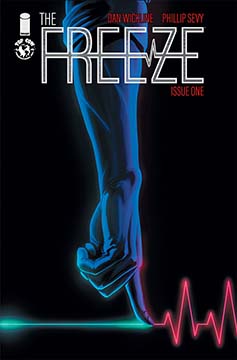 Writer Dan Wickline (30 Days of Night, SHADOWHAWK) and artist Phillip Sevy (Tomb Raider, THE TITHE) team up for THE FREEZE, an all-new science fiction series coming this December from Image/Top Cow.

The entire human population is frozen by a mysterious global event…all except Ray, and only he has the power to unfreeze them. Now—with the fate of the world in his hands—he must figure out what is going on, how to set things right again, and answer the question: does everyone deserve to be saved?

"THE FREEZE is a post-apocalyptic survival story where the biggest danger is man's true nature," said Wickline. "We strip the world down to one decent person and then give him the power to rebuild society from scratch, not knowing if those he awakens will benefit the new world or indulge their darkest inclinations. It's an intriguing concept to explore as a writer, and Phillip is just hitting it out of the park with his art."

"Great sci-fi is about taking a cool concept and using it as a vehicle to examine the choices,
attitudes, thoughts, and prejudices we, as people, have," added Sevy. "The premise and its execution in THE FREEZE is what drew me to the project and keeps me fueled as I work on it. I can't wait for people to read it—Dan's written a great book!"

THE FREEZE #1 (Diamond code: OCT180028) hits stores on Wednesday, December 5th. The final order cutoff deadline for comics retailers is Monday, November 12th.

Advance praise for THE FREEZE:

"Wow! It so rare to find someone who can do the end of the world in a way we have not seen. But Dan Wickline and Phillip Sevy have pulled it off with their wicked apocalyptic game of freeze tag that has me wanting more…a lot more! Wickline's usual sense of character is on full display while Sevy's art is crisp and cinematic and serves the conflict beautifully. This is fantastic, intriguing stuff!"
—Adam Marcus (director of Jason Goes to Hell: The Final Friday)

"It's a great concept. I smell a movie adaptation." —Dan Brereton (NOCTURNALS)

"THE FREEZE is kind of like… what if Left Behind was good, and less religious? A fantastically fresh concept that begs to be explored, expertly rendered with art that's surprisingly vibrant and dynamic for a book about people that literally can't move."
—Ryan Cady (INFINITE DARK)
3 Minutes of Master Storytelling
24 Nov 2016
I've dusted off my livejournal and will be doing various postings about storytelling. Some will be tips on how I write while others will be breaking down excellent examples from film, television, comics and literature.

It starts off with a breakdown of the firs three minutes of David Fincher's The Girl with the Dragon Tattoo:

Character development at its best.
DEADLY CREATURES FREE ON KINDLE
03 Sep 2015
Deadly Creatures: A Lucius Fogg Mystery is free on Kindle (and Kindle apps) from now until September 7th through Amazon.com. The first of the Lucius Fogg series introduces us to the premiere occultist and his leg-man Jimmy Doyle. Get this book for free while you can as the third novel, Educated Corpses, should be available by the end of the year.

Click here to get the digital copy. Print copies are available as well.
DO YOU READ DAN WICKLINE? PART 3
26 Oct 2010
Third video in the series.


DO YOU READ DAN WICKLINE? PART 2
08 Oct 2010
Second ad video.


DO YOU READ DAN WICKLINE?
30 Sep 2010
New ad campaign kicks off.


FACEBOOK FAN PAGE
29 Aug 2010
SAN DIEGO COMICON CON THIS WEEK
20 Jul 2010
Dan Wickline will be attending the Comic-con International in San Diego this week. He does not have his own booth this year, but will be signing at the following locations and times:

At the Image Comics/Shadowline booth
Thr 4-5 pm
Sat 6-7 pm

At the Zenescope booth
Thr 12-1 pm
Fri 4-5 pm
Sat 3-4 pm

As always, signatures are free and he will sign any of his published work at either location. Copies of ShadowHawk will be available at the Image Comics booth and Copies of Sinbad and other books will be available at Zenescope.

See you there!
A NEW FOGG ROLLS IN
01 Jul 2010
Read the new Lucius Fogg Mystery as it is being created for free!

At Comicon International 2009, writer Dan Wickline debuted his exclusive novella, Three Little Ladies All in the Morgue: a Lucius Fogg Mystery. The tale introduced the world to the enigmatic detective Lucius Fogg and his assistant Jimmy Doyle. The limited edition print run sold out quickly and readers have been clamoring for more. Wickline has begun work on a full-length novel but didn't want readers to have to wait any longer... So he will simultaneously be writing a new novella of the character exclusively on Twitter.

Starting July 1st and running until its completion, The Werewolves of Paddington Court: a Lucius Fogg Mystery will be written live at http://www.Twitter.com/LuciusFogg. This is not a previously created tale being re-published. Each entry of the story will be posted as it is written and will conform to the 140 character limitation inherent to a Twitter site. Fans of Wickline's comic or prose writing will get new material as it is being created and gain a unique look into the creative process as it happens.

The Lucius Fogg Mysteries are set in the 1950s and detail the cases of detective/occultist Lucius Fogg as he assists his clients with the strange and supernatural that runs rampant through the streets of New York City. The stories are narrated by Fogg's assistant, WWII vet Jimmy Doyle. In The Werewolves of Paddington Court there has been a rash of savagely brutalized corpses found that has local police believing a vicious animal is loose in the city... And Fogg's latest client happens to be a werewolf.

Follow the new story as it is created at http://www.Twitter.com/LuciusFogg

Dan Wickline has written for the 30 Days of Night franchise as well as Grimm Fairy Tales and Wonderland. He is currently scripting 1001 Arabian Night: The Adventures of Sinbad and ShadowHawk: Resurrection. Besides Lucius Fogg, Wickline has written short prose fiction for such classic pulp characters as The Phantom, The Avenger and The Green Hornet. You can read more about Wickline at http://www.danwickline.com.

WICKLINE INTERVIEWED BY ENGLISH
01 Jul 2010
Dan Wickline sits down with Ed English for June's Behind the Mask podcast on Blogtalk Radio.

To hear the interview.
PHOENIX COMICON
23 May 2010
Phoenix AZ - May 27th through 30th at the Phoenix Convention Center, Dan Wickline will be attending the Phoenix Comicon. He will be set up in artist alley at table T51 and will be participating in 3 panels: Out of the Shadows, How to Write Horror Comics, Artist vs Writer. Bring your copies of ShadowHawk, Sinbad or any other of his works to the show and he will sign them for free.
PHOTOGRAPHY GALLERY SHOW MAY 2ND
01 May 2010
40 for 40

Whittier, CA - On May 2nd, the Nomad Gallery will be hosting a one night show to celebrate the last decade of photography by Dan Wickline. A variety of pieces will be on display and for sale that evening ranging from some of his earlierst work to images taken within the last few months.

Some of the models appearing in the work include: Isobel Wren, Liz Ashley, Carly Erin, Sarah Liz, Kerri Taylor, Amanda Redd and Angela Ryan.

The show is from 5pm to 9pm Sunday May 2nd at the Nomad Store/Gallery located at 6548 Greenleaf Ave, Whittier CA. 90601. Admittance is free, but 18 years and older only.
SITE CHANGES
30 Mar 2010
You'll notice some minor changes on this page. In the top right corner you see 3 new buttons. The first, a 't' will take you to my twitter page where I randomly post whatever comes to mind. The 'f' will take you to facebook where I do whatever you do on facebook... and finally, the "dw" button will take you to my photography website. Be warned that there are some images on that site not suitable for anyone under 18...

Once there, the "dw" button there will bring you back here. Clever eh?
YOU CAN'T KEEP A DEAD MAN DOWN
08 Mar 2010
Paul Johnstone returns to the helmet in SHADOWHAWK #1!

Berkeley, CA - 8 March 2010 - Paul Johnstone may have died, but not only is he better now, he's resumed the mantle of ShadowHawk in SHADOWHAWK, an all-new series arising from the pages of IMAGE UNITED written by DAN WICKLINE with art by TONE RODRIGUEZ.

"The return of the original SHADOWHAWK, Paul Johnstone, is electrifying. Dan and Tone have RESURRECTED the character of SHADOWHAWK, both literally and figuratively in a manner that, to the best of my knowledge, has never been done before," says Shadowline Publisher Jim Valentino. "Paul Johnstone is back to kick butt and take names."

SHADOWHAWK takes place 15 years after Paul Johnstone's stunning death and though he wears the ShadowHawk helmet once more, New York is a far more dangerous place than he remembers. A new evil festers in the city's shadows, but before Johnstone can deal with the ramifications of returning to life, he must first confront his past.

SHADOWHAWK #1 (MAR100390), a 32-page full color comic book for $3.50, will be in stores May 5, 2010.

PHOTOGRAPHY GALLERY SHOW DEC 6TH
03 Dec 2009
Dan Wickline will have 4 of his photos in an exhibit starting on Dec 6th at the Nomad Gallery in Whittier CA. The exhibit is entitlged 'Controversy & Diversity' and will run through the month of December.

Premier of the exibit and reception will be Dec 6th from 4 pm to 10pm with many of the photographers including Dan Wickline on hand.

Nomad Store & Gallery
6548 Greenleaf Ave
Whittier, CA. 90601
LONG BEACH COMIC-CON OCT 2ND THRU 4TH
03 Oct 2009
Dan Wickline will be appearing at the Long Beach Comic-con Octber 2nd through the 4th. He will have copies of his latest work including the Wonderland Annual, Sinbad trade and the first Lucius Fogg short story. He will be set up at table 40 in artist alley.
WICKLINE AND ROOT DO FRAZETTA
04 Aug 2009
At Comic-Con, Frazetta Comics editor Jay Fotos announced the upcoming release of three new Frazetta comics including the INVADERS written by Dan Wickline and art by Bud Root. Jay now talks to CBR about the new projects:

Click here to read it.
LUCIUS FOGG MAKES COMIC-CON PREMIERE
16 Jul 2009
Comic creator Dan Wickline (1001 Arabian Nights: The Adventures of Sinbad, 30 Days of Night: Spreading the Disease) shifts gears to produce Three Little Ladies All In the Morgue: A Lucius Fogg Mystery. Occult specialist Fogg and his leg man Jimmy Doyle are called in by the police when three unrelated women are murdered in exactly the same fashion by three different killers. Is there a connection between the crimes and can Fogg find it in time to prevent more deaths? This short story crosses the dark corners of the horror genre with the style of a period piece murder mystery.

The book will be available at the Comic-Con International at booth #5335 but in a very low quantity. Only 50 copies of the book have been printed, each will be numbered and signed by the author. Only 10 of the books will be made available each day to spread the release over the length of the show. The first 10 will be available at the start of Preview Night. Then each day after another 10 will be made available at noon. The book is fifty pages long, has a cover with art by Brent Peeples and will be selling for $10.00.

TAMPA BAY NEWS WEEKLY REVIEWS SINBAD TRADE
20 Apr 2009
Lee Clark Zumpe of the Tampa Bay News Weekly has reviewed the new Sinbad trade and referred to it as:
"A sword-and-sorcery lover's dream: These pages contain brawny swordsman; buxom, scantily-clad women warriors; demonic creatures and exotic palaces."

As well as saying:
"'1001 Arabian Nights: The Adventures of Sinbad' should appeal to any collector who craves high adventure, fantasy and good story-telling."

To read the whole review.
SAVAGE TRADE RELEASED 4/22/2009
18 Apr 2009
The critically acclaimed, sold out hit series is now collected in one volume. With story by horror master Steve Niles and new comer Jeff Frank, scripts by Dan Wickline and art by fan favorite Mike Mayhew and Frank Bravo this is a trade you'll definitely want for your collection. 106 full color pages for only $12.99.
READ A FREE ISSUE OF SINBAD!
02 Apr 2009
To celebrate both the release of the first trade and the start of the new story arc, Zenescope and Comic Book Resources have put up all of issue 8 of 1001 Arabian Nights: The Adventures of Sinbad for free. The story written by Dan Wickline and drawn by Eduardo Ferigato starts the new City of the Dead story line that will run through issue 13.

Click here to read it.
WICKLINE INVADES THE EMERALD CITY
02 Apr 2009
Dan Wickline will be attending the Emerald City Comic Con 4/4 and 4/5. He will be sitting next to Sinbad #3 interior artist Tone Rodriguez at table A-17 and will have select copies of 1001 Arabian Nights: The Adventures of Sinbad, Savage and Grimm Fairy Tales on sale. He will also be happy to sign any books your bring him.

Go to their website for more information, directions, etc.
WHAT IS THE HERO INITIATIVE
23 Mar 2009
A new video has been released giving insight to the Hero Initiative. Included in the video are Gene Colan, Mark Waid, Tim Seeley, Jim Valentino, Dan Wickline, Brian Pulido and many more.

To watch the video.
SINBAD TRADE RELEASED
23 Mar 2009
1001 Arabian Nights: The Adventures of Sinbad Volume 1 hit stores on 3/18/2009. The issue collects the zero issue preview story, all of the Eyes of Fire storeline and includes a gallery of issue zero through six covers. It also includes a forward by Spawn & Aria writer Brian Holguin. The 180+ page tome is on sale now for the low price of $15.99 at a retailer near you.
EARLY WICKLINE/TEMPLESMITH AVAILABLE FOR DOWNLOAD
19 Feb 2009
The original graphic novel BLOOD-STAINED SWORD by Dan Wickline and Ben Templesmith is out of print, but you can still read it for $1.99. It and a slew of other back issues from IDW Publishing are now available from Eagle One Media for more details!